I journeyed from the central valley up along the Tuolomne River with a final destination of Cherry Lake and Eleanor Lake right at the edge of Yosemite.
Started up the paved roads, J132, through Coulterville, up Smith Station to 120, left on Ferretti to NF-1N10 where the dirt started. This is the dirt road the river rafters take to get to the Tuolomne at Meral's Pool.
Nice clear day with touches of overcast near Cherry Lake - temps from about 75 in the valley to about 45 in the snow
Click the pics for a larger version
The little patch of white water directly above the front wheel is just before you reach Meral's Pool on the Tuolomne, and my first destination. Above the saddle bag you can see the dirt road I'll soon be on. And if you follow the "point" of the right rear mirror up to the snow capped peak - that's about where Hetch Hetchy would be
Melting snow is supplying many small temporary mini-falls along the the track and a few small creek like crossings in deep corners.
A short video
This is the spot of the Tuolomne you can see it the first photo (I think)
Video
After Meral's Pool at the bridge crossing
Up the other side NF-1N10, there where plenty of big rock falls, mud puddles, deep rain ruts, etc.
A nice feeder stream where I stopped for a snack and some water. I love the roar of the water in all these places.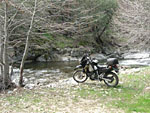 A short video
The Rangers still have the Cherry Lake wilderness access closed. Damn.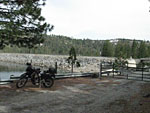 Tried to get around to the trails above Cherry Lake by a different route. Gave up cause I don't ride so well in the snow.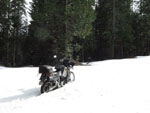 Getting late in the day, so I headed back down on the paved Cherry Lake Rd. I stopped of at the Cherry Lake HydroPower Plant that feeds San Francisco - on a fork of the Tuolomne. Still Love the sound of the water.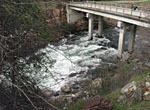 A short video
Manzanita
Final Tuolomne crossing on Cherry Lake road
then I got back to the 120, back through Coulterville - to home just as the Sun set.
I had a great time. The river starting to show the signs of snow melt is pretty awesome.